---
NEW HORIZONS TREKS & TOURS
---
 First of all, We all at New Horizons Treks & Tour, Welcome you in the Himalayan Region of India, Nepal, Tibet and Bhutan.
We believe in"AAthiti Devo Bhawa" Which means Guest are Gods. So to make them happy and satisfy with our services is our main motive.
We are organizing treks, tours and expedition along with so many other adventure activities like Mountain Bike, Bird watching, cultural tour etc. more a decade. After working several year in tourism sector, we discovered so many things about the Remote and local places of interest in Himalayan Region and most important is to access those places with reasonable, professional way of organizing treks, tours, expedition.  So, we are giving our level best to make treks, tours and expedition  as a greatest moment for you with best restaurant at local places to eat and best things to do in such places. 
---
Why to travel with New Horizons Treks& Tours ?
---
We provide Perfect, Reasonable and Professional services in tour, treks and expedition. Our treks, tours and expeditions are cost effective and organized professionally and ensure high quality service.   
We provide Best Team to make your treks, tours and expedition Successful, memorable and best moment of your life. 
Our  leaders,Guides and field personals trained in different mountaineering institute like NIM, HMI etc. In India.
 We are working with local peoples ,  who have best knowledge about places of interest at local areas, history and culture etc. Who can give you best experience and information about the places of interest. 
 We assure our guests' complete satisfaction during their holidays; under our expert guidance, we do everything possible to help them. It is our sincere commitment to make one of the most unforgettable holidays of a lifetime.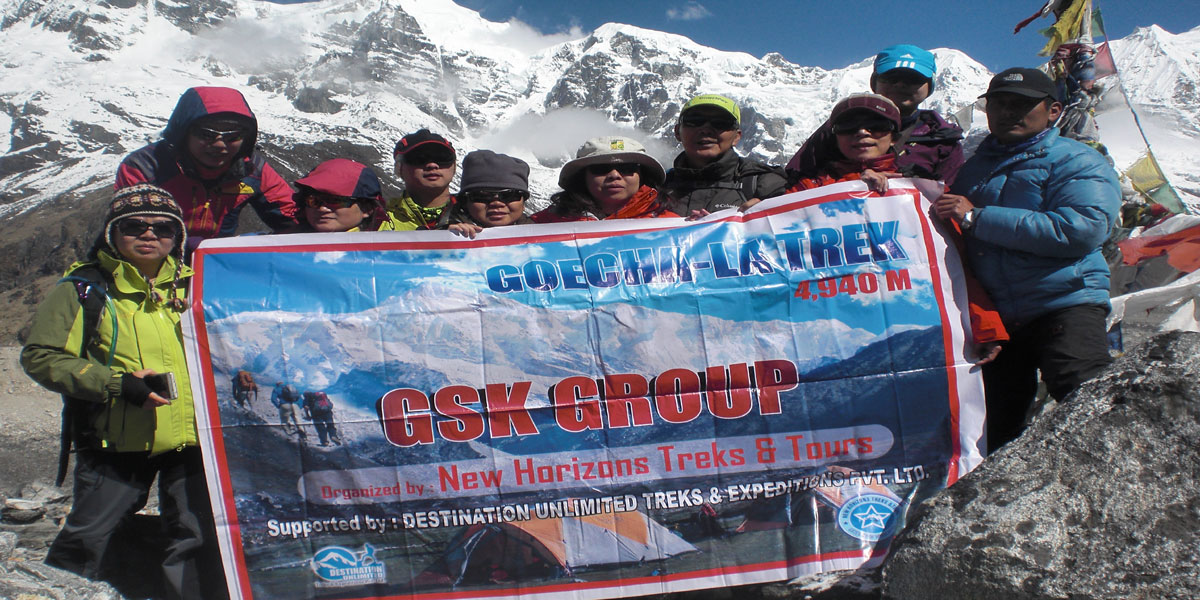 W
---
What you get with our Services?
---
Quick Response
For any type of your queries, questions or comments our friendly office Executive  will get back to you within 24 hours with the answers.
Free Information Centre:
Our office executive  is always ready to help tourist whether you need only information not service or you are planning a trip to India, Nepal, Bhutan, and Tibet or  changing your travel plans.
Always Up-to-the-date information:
Our office executive always endeavor to provide you with up-to-the-date information which may affect your travel plans or an itinerary. Conversely, we will try our level best in getting any information that we may receive for you while you are on a trip with us.
Value of the  money that you pay for any Trip :
Value for money doesn't necessarily mean being the cheapest. Our reputation has been built on the quality of our holidays. This means ensuring that all the ingredients are right, not just the price. It also means those added experience that lift a holiday out of the ordinary. We believe in including as much as possible, so that you need to spend less whilst you are travelling.
Safety:

It is our first and never forgotten priority, and it shows. We employ some of the best trekking/biking/climbing guides trained in so many Mountaineering Institute  in India. These men and women are professionals, trained in emergency wilderness first aid and can get a person out of trouble faster than anyone else.
 we leave nothing to chance. We don't skip or cut corners and we ensure that every small detail is taken care of; thus enabling you to relax totally and enjoy your holiday.
 we take safety very seriously. Our leaders are selected for their personality, their experience in adventure travel and their wealth of knowledge of the area within which they work. They are well -trained and have the ability to provide the support you should expect when you visit remote areas of the Himalayas.
Friendly, helpful and Professional staff:
Our leaders are selected for their personality, their experience in adventure travel and their wealth of knowledge of the area within which they work. They are well -trained and have the ability to provide the support you should expect when you visit remote areas of the country. They are able to cope with most emergency situations including those requiring evacuation and hospitalization. 
All the technical wizardry and networking at our disposal would mean nothing if it weren't for our friendly and helpful staff who will look after you throughout your trip.Whether it is a case of miss-directed baggage on arrival or shipping of your shopping on departure, a case of finding directions to the right restaurants or finding the doctor after visiting the wrong one, a case of having to be evacuated from high altitudes or not being able to catch your connecting flight due to bad weather, our office and field staff will help you every step of the way during your stay in this region, whether you are in  city or in the High Himalaya.
Porters are mostly hired locally in the trekking area, and most of them have remained with our company season after season, climbing to higher positions by learning in the field and under going training.
Staffs Insurance & well paid:
Staffs are the back bone of the company and we have understood it very well. Without happy staff you can't operate nice trek and your trek will be not succeed. So, we have tried our best to make our staffs happy and tried to keep them with us as long as possible. All our staffs (including porter and driver) are insured against personal accidents throughout the year and they are well paid.
 WE have also opened staff fund in case somebody has problem at home with unforeseen circumstances such as flood, Landslide etc. They can take certain money from this fund and don't have to pay it back.