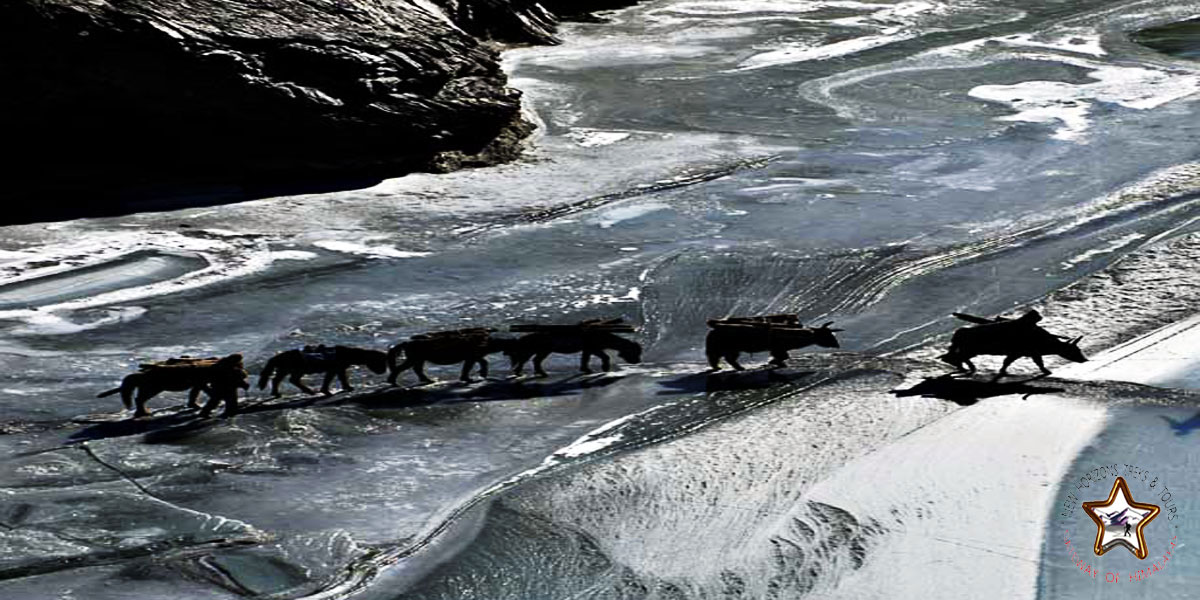 Chadar trek a thrilling and adventurous trek in Ladakh. In the local language "chadar" means layer- indicating the layer of ice that covers the river . The chadar trek is basically performed on a frozen river called the "Zanskar River", during the summer this river doesn't disappoint its enthusiastic tourist as it becomes a perfect location for river rafting expedition and during the winters it transforms into an ice sheet where the famous Chadar trek is performed.
 The Chadar Trek is the frozen Zanskar River which provides an access route to the Zanskar Valley and is used as a trail by locals and tourists during the winters. It takes place on the trade route that has been used by the indigenous people for centuries and is a fairly well established trek.
Large sections of the river Zanskar, which is one of the mightiest rivers in Ladakh, freeze over in the dead of winter and are covered by a thick blanket of ice. This frozen blanket or 'Chadar' is the only way in and out for Zanskaris in winter, when the road and various other caravan routes are closed due to heavy The icy wonderland of the 'Chadar trek' snow fall blocking the high passes. It has been their traditional trade route in winter for Centuries.For many years Chadar trek has attracted tourist from all over the world, it is one of the most exciting and challenging treks which covers the distance of approximately 105 km on foot, an average trekker completes a distance of 15–17 km each day.
The best time to do the Chadar trek is January to February, when the temperature during the winters drops sometimes to -30 to -35 degrees which makes the Zanskar Lake look like a mesmerizing crystal lake.
TREK FACTS
| | | |
| --- | --- | --- |
| | : | Delhi – Leh |
| | : | Leh Sightseeing |
| | : | Leh- Tlad Do via Chilling |
| | : | Tilad Do – Gyalpo |
| | : | Gyalpo  – Tibb Cave |
| | : | Tibb cave – Naerak  |
| | : | Naerak – Tibb Cave |
| | : | Tibb Cave – Gyalpo |
| | : | Gyalpo – Tilad Do – Leh |
| | :  | Leh Sightseeing |
| | :  | Leh – Delhi |